Exploring the Land of Spices, Discovering the Taste of Gorontalo
This just in from Amanda Niode, our Ambassador in Indonesia: The Omar Niode Foundation, chaired by Amanda Niode, Ambassador in Indonesia to the World Food Travel Association, collaborated with Negeri Rempah Foundation to organize a food travel program themed the spice route. This program chose Gorontalo, a province on the Island of Sulawesi, that holds rich stories and flavors. It is situated on the Wallacea, a transition zone between the Asian and Australian continents.
For three days (9-11 March 2018) the food lovers visited important spice culture points in Gorontalo. They tasted various dishes and traditional Gorontalo snacks and drinks, and learned the stories behind each while enjoying the natural beauty of the area.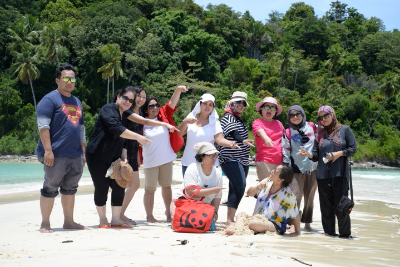 The fifteen travelers came from different backgrounds including food writers, national media representatives, event organizers, logistics practitioners, food lovers, food entrepreneurs, and an official from the Presidential palace.
They visited Dulamayo scenic track in the cool hilly areas where community gardens are abundant, growing cloves, cinnamons, nutmegs, vanilla, and betelnut, candlenut, coffee, cacao and coconut. Another interesting place in Dulamayo is Balombo; a hut where local farmers process Pahangga (traditional palm sugar).
Travelers also enjoyed a variety of traditional foods and snacks such as Ilabulo, spiced sago with egg and gizzards, known as a food served when two kingdoms reached peace agreement after a war. Another favorite is milu putungo, spicy roasted corns with grated coconut and slices of banana blossom, grilled on candlenut shells.
The spiciest dish in Gorontalo is tabu moitomo, a rich black soup using beef or poultry with 30 ingredients, including all kinds of herbs and spices imaginable. This cuisine is commonly served in weddings, family gatherings and special events. Preparing tabu moitomo, a comfort food for many, is a family affair as it takes hours and requires many people to grind the herbs and spices and to wait for the meat to become tender.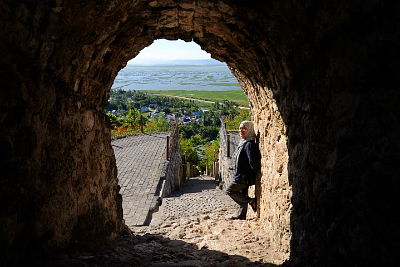 Mini Gorontalo Food Festival was held in a colonial house with guests discussing the various foods of Gorontalo while enjoying harp music 9 main courses, 22 types of snacks and Pinogu Coffee, a blend of Robusta and Liberica coffee, harvested in a remote area where there is no road access that takes 10 hours to reach by foot.
Gorontalo is not as famous as nearby Maluku Islands that have been producing spices since the bygone era, but Gorontalo's strategic location between the South China Sea and Tomini Bay, has made it a shipping lane in the past, forming a unique and distinctive culture, including its culinary products.
Being a transit area in the old days, Gorontalo has an old town area with colonial buildings and a variety of community clusters such as Chinese Village, Arab Village, Bugis Village, and Tent Village (used to be Portuguese residential area). Sunset at Otanaha Fortress is also part of the tour, as the Portuguese built Otanaha, overlooking Lake Limboto, in 1522 inititated. According to experts, forts are always available in spice producing areas.
Island Hopping in between spicy meals is also in the program, as Gorontalo with its spectacular dive spots has 150 small exotic islands with a stretch of white sand and clear blue water.